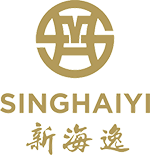 About Us
Executive Management
Celine Tang
Click here to view more details
Mao Jinshan, Jason
Click here to view more details
Kok Jia Cheun
Chief Financial Officer, Singapore
Mr. Kok has more than 15 years of accounting, finance, and reporting experience. He joined the Group in September 2013 and has been serving as the Chief Financial Officer ("CFO") since 1 April 2019. As CFO, he oversees the Group's treasury, financial, taxation and reporting functions. Since August 2020, he also supports the Group Managing Director in the daily operations, including implementation of strategies for the growth of the Group's businesses and investor relations. Simultaneously, Mr. Kok oversees the sales & marketing and human resources & administration functions.
Prior to joining the Group, Mr. Kok was an audit manager at Deloitte & Touche LLP, Singapore and had managed a portfolio of clients and delivered high quality audit and assurance services for a period of 5 years before joining Super Bean International Pte Ltd (also known as Mr Bean) as its Group Financial Controller.
He holds a Bachelor of Business in Accountancy Degree from RMIT University, Australia and is a Certified Practising Accountant ("CPA") of CPA Australia.
Chang Soy Lee, Catherine
Technical Director (Project Development & Sales Administration), Singapore

Ms. Chang has more than 35 years of property development experience, and has been involved in the development of hotel, residential and commercial properties. She is also experienced in project feasibility studies and the assessment of development potential of specific sites. In her capacity as Technical Director, she provides project consultancy services and technical expertise to the Project Development team, and guides and acts as gatekeeper to Sales Administration team on process workflow.
Ms. Chang has a strong track record in planning and developing projects from conceptualisation to handover. Prior to property development, she accumulated over 10 years of working experience in the construction industry working as an engineer, in consultancy firms.
She holds a Bachelor's Degree in Civil Engineering, a Master's Degree in Science (Engineering), and a Master's Degree in Business Administration from National University of Singapore, as well as the CFA Charter.