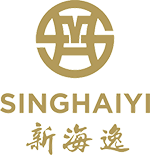 Corporate Social Responsibility
Shareholders
RESPONSIBILITIES TOWARDS OUR SHAREHOLDERS
In addition to our community efforts, we are also cognisant of our responsibility towards our valued shareholders. With this in mind, we endeavour to provide updates on our corporate and financial developments in a timely and reliable manner.
Current and potential investors in SingHaiyi can access basic information, key developments and the latest updates relating to the Group on our website, as well as historical information, past announcements and annual reports in the dedicated Investor Relations section. As part of our shareholders' communications programme, we work to keep the investor community up to date on corporate developments through regular engagements with analysts.
We believe that an effective shareholder communication programme is essential for the growth of the Group, and we aspire to provide viable channels for shareholders to raise questions and have their concerns addressed. Apart from our annual general meetings, where our Board of Directors and senior management team are present to address shareholders' queries and gather feedback, we can be reached at:
SingHaiyi Group Ltd.
Citigate Dewe Rogerson Singapore Pte Ltd