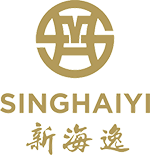 Change Property
Ongoing Projects
Completed Projects
Property Investments

Property
Investment
Singapore
TripleOne Somerset
We made our first commercial property investment in March 2014 by acquiring a 20% stake in TripleOne Somerset for S$65 million, making us its second largest shareholder. The acquisition was made through a consortium led by Perennial Real Estate Holdings.
TripleOne Somerset is a 17-storey commercial building, comprising two office towers, two floors of retail space and over 400 parking lots, situated at a premium location in Singapore's prime shopping district of Orchard Road with great connectivity and convenient access to Somerset MRT Station.
Working with the consortium, SingHaiyi intends to boost the value of TripleOne Somerset through asset enhancement works which include enhancing the retail podium, creating a sheltered connectivity to Somerset MRT and strata-sale of the office space where feasible. The estimated cost of asset enhancement is about S$114.0 million.
Type
Mixed Commercial/Retail
Location
Orchard, Singapore
Acquisition Cost
S$970 million
SingHaiyi's Stake
20% (for S$65 million)
Tenure
Leasehold - 99 years from 1975
Expected Commencement of AEI
2016
Expected Completion of AEI
2018/2019
Gross Floor Area (sq ft)
~ 766,550
(Office: 648,610 / Retail: 117,940)